Reliable Pest Solutions For Conroe, TX Home & Business Owners
When pests invade your Conroe home or business, it's important to get rid of them as soon as possible. Pests can damage personal property, spread dangerous diseases, and contaminate food items. If pests are causing problems in your Conroe property, it's time to reach out to Cantu Pest & Termite for professional solutions. With over 30 years of pest control experience, you can depend on us to offer affordable and effective pest control services to protect your property year-round. Whether you're dealing with rodents, ticks, spiders, ants, cockroaches, or other pests, Cantu Pest & Termite has you covered. Get in touch with our skilled pest technicians today for more information about how we protect Conroe homes and businesses.
Home Pest Control In Conroe, TX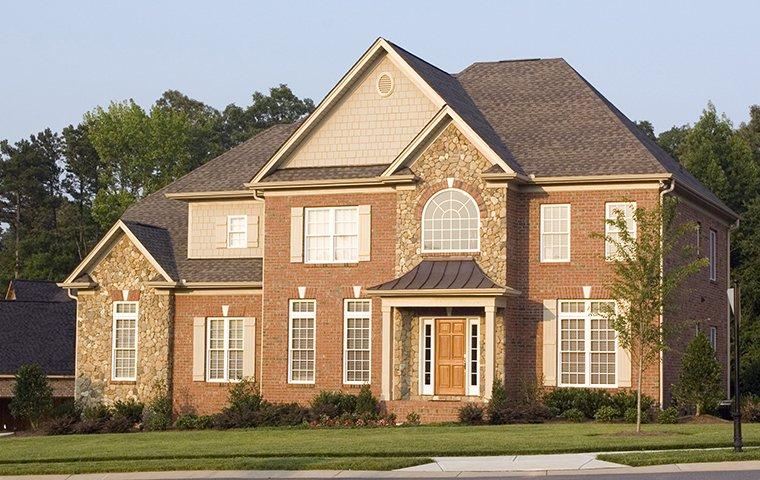 No matter where you live, pests will always be a year-round problem. To keep rodents, insects, and spiders from causing problems in or around your Conroe home, reach out to Cantu Pest & Termite for customized residential control programs. Our home plans are designed to eliminate current pest threats and implement prevention methods that will prevent future infestations from occurring. In addition to our regular home pest control services, we also provide wildlife trapping and exclusion, mosquito abatement, and eco-friendly pest control options. When it comes to pest control and prevention, no one does it better than the experts here at Cantu Pest & Termite. Give us a call today to learn more about our Cantu Pest Protection plan.
Commercial Pest Control In Conroe, TX
At Cantu Pest & Termite, we understand how frustrating it can be to deal with pests in your Conroe commercial facility. Not only are they a threat to your reputation, but they also spread dangerous diseases and can lead to failed health inspections. Don't allow pests to damage your inventory and drive away your customers. Instead, implement an effective year-round commercial pest control plan from Cantu Pest & Termite. We offer eco-friendly commercial pest control plans that can be customized to meet the individual needs of your business industry. We have what it takes to protect your healthcare facility, warehouse, office space, or other businesses from the many pests that live in our area. Here at Cantu Pest & Termite, we are proud to provide quality pest treatments to protect Conroe businesses from nuisance and dangerous pests. Reach out to us today to ask about all of our commercial pest control options.
Three Things You Should Know About Ticks In Conroe, TX
Ticks are common pests that thrive in warm weather. Unfortunately, our warm humid climate allows ticks to thrive year-round. Although ticks are small in size, they can cause serious problems when they live in and around your Conroe property. Ticks can spread a wide range of dangerous diseases, including Rocky Mountain spotted fever, Lyme disease, ehrlichiosis, babesiosis, tularemia, and many others. Understanding more about ticks before you head outdoors is a good place to start when it comes to dealing with these warm-weather pests.
Ticks require a host to survive. They feed on the blood of warm-blooded animals for sustenance. Ticks will feed on the blood of deer, rodents, wildlife animals, and humans.

Most infected ticks don't transmit diseases the instant they bite you. It can take between 24 and 48 hours of feeding before they transmit infections such as Lyme disease. This is why you should always remove ticks from your skin as soon as you can.

Ticks don't hop or fly to get from one host to another. Instead, they crawl onto grass, shrubs, and other vegetation and wait with their legs outstretched to grab onto passing animals.
The best way to deal with ticks is to contact a professional pest control company like Cantu Pest & Termite. We offer comprehensive tick control services to eliminate and prevent ticks on your Conroe property. Partner with Cantu Pest & Termite today to receive excellent pest control services that will protect your home or business year-round.
Rodent Prevention Tips Every Conroe, TX Resident Ought To Know
Here in Conroe, rodents invade homes and businesses throughout the year. Rodents such as mice and rats invade Conroe properties while foraging for food and water sources. Once they get into your home or business, they can cause major problems. Rodents can damage your furniture, electrical wires, piping, and structural elements of your property with their constant chewing behavior. In addition, rodents can also carry and transmit several dangerous diseases, such as hantavirus and plague. To prevent rodents from invading your Conroe property, consider a few of these rodent prevention tips:
Keep pet food stored away at night.

Clean crumbs and drink residue from your counters and floors.

Seal gaps and crevices around the exterior of your property.

Keep your trash cans sealed and stored away from your exterior walls.

Remove clutter on the interior and exterior of your property to eliminate hiding spots.

Store food items in the refrigerator or airtight plastic containers.
Rodents are dangerous pests that you should never try to remove without professional help. Prevent rodents from taking over your Conroe home or business by reaching out to Cantu Pest & Termite today.
Let Cantu Pest & Termite Help You Stay Pest-Free!
Cantu Pest & Termite is excited to offer high-quality pest control services to Conroe. Given the nature of our business, we know that if you call Cantu Pest & Termite, you require an immediate, honest response. Our customer service representatives have proven time and time again that patient, understand service truly is what separates Cantu Pest & Termite from the competition. Call (281) 688-2416 to schedule an appraisal, receive an estimate, or simply to learn more about the company. Reach out to Cantu today!
Zip Codes We Service In Conroe, Texas
77301, 77302, 77303, 77304, 77305, 77306, 77384, 77385
Request Your Free Quote Today
Complete the form below to schedule your free quote.